| | |
| --- | --- |
| Guitar & Amp Tone Capacitors | Fluid-Filled Hermetically-Sealed Copper Foil capacitors |
TONE... Unleashed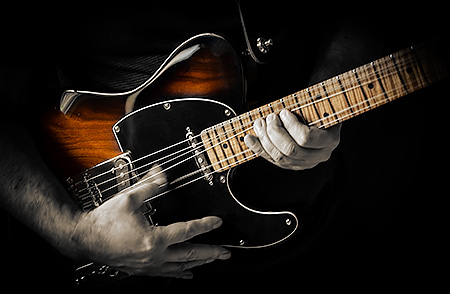 Click image for larger version
V-Cap TONE. A new series of guitar / amp capacitors from VH Audio.
Built for players who are passionate about unleashing the full potential of their instrument.
ABOUT THE BUILDER
TONE™ guitar caps are designed and built in the U.S.A. by VH Audio.
We're known for the award-winning V-Cap audio capacitors installed by audiophiles and leading high-end audio equipment manufacturers since 2002. Since we started, our goal has been to help connect music lovers to the Soul of the Music. You can find hundreds of reviews > here < .
VH Audio Founder and Head Product Designer Chris VenHaus is a drummer, who also rocks several heavily customized Strats. Here's the backstory on TONE.
I became interested in developing a cap for guitars after a conversation with my friend Brian Kelly (Cincinnati / Nashville). He recalled a story from the 60's, when he and Seymour Duncan raided the 'graveyards' of old "tube" radio and TV repair shops looking for old 1940's and 50's 'paper in oil' caps. Brian said: "I honestly thought Seymour might have lost his mind when he came up with the idea that these old, leaky, sometimes radically out-of-spec caps might really be a significant part of the classic Fender sound."

Coming from the world of high-end audio, it was a bit of a head-scratcher to me, why anyone would want those old caps. Most old PIO caps are notoriously unreliable, and after acquiring/testing the 'Holy Grail' caps in the guitar world, there was nothing special about the electrical measurements. In fact, many measured quite poorly. BUT… that sound… it doesn't lie…

I was hooked, and it became a mystery & obsession I felt compelled to understand/solve what made these special... and see if I could magnify and expand upon those attributes.

Our new line of V-Cap TONE capacitors is the result of 4+ years of extensive R&D. We believe we've 'cracked the code' for what makes a great guitar cap, capturing the 'magic' of those select 40's & 50's caps, but with far better consistency and reliability.

TONE... Unleashed.
ABOUT THE NEW V-CAP TONE SERIES
TONE takes the time-honored PIO concept and reimagines it, with bleeding-edge manufacturing techniques and materials, American craftsmanship, and some serious experience designing what many audiophiles feel are the best high-end audio capacitors ever made.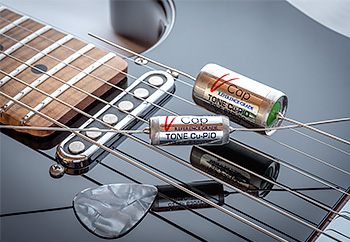 Click image for larger version
We began by figuring out why the best vintage caps worked so well. Then, we applied our knowledge of materials and manufacturing to enable you to extract the absolute deepest, most expressive tone your instrument is capable of. At the same time, we addressed obvious issues with reliability inherent to 'vintage' cap tech.
TONE is a 'wet' PIO capacitor, which means the winding isn't just impregnated, but also fully immersed in fluid, and then enclosed with mil-spec glass hermetic seals. Unlike many traditional 'oil cap' designs, your TONE cap will NEVER dry out. The cap winding itself is made with the purest form of copper foil available, and since it's encased inside a brass canister… it's also fully shielded. This 'bullet-proof' construction, together with solid-core, pure copper leads makes installation a breeze.
A rigorous multi-step QC process ensures that the caps are consistent batch-to-batch and across values. One more refinement: you don't have to wait for the caps to 'leak' before they sound good… we build them to sound GREAT, right out of the box.
TONE values are available in the following values (all 630VDC): .01, ,015, .022, .033, .047, and .1 uF. Dimensions are .4" x 1.062" for all values up to .047 uF and .67" x 1.25" for the .1 uF.
Our new V-Cap TONE Caps are also guaranteed for life, so no dumpster graveyard to visit for these.
ABOUT THE TONE SOUND
We kept testing until the 'light bulb moment' happened.
Then... we asked a wide range of players, guitar techs and luthiers to install the V-Cap TONE capacitors into their guitars. Here's what they heard:
Brian Kelly, a highly respected player from the Cincinnati / Nashville areas not only provided the original inspiration for TONE, but has continued to offer great input along the way. Thank you, Brian!
I am all in on these caps. Chris spent years figuring out how to minimize the problems with the original caps and, at the same time, maximize the potential of the PIO concept. It's a significant accomplishment. He is one of the few people with the background in cap design to tackle this problem. < more comments >
Vito Bratta, the co-founder and incredible guitar player for White Lion:
Never cared for tone controls until I heard your capacitor. Your capacitors are currently in a 1990 Fender Strat, 2017 Fender Telecaster, 2020 Gibson Les Paul Custom, 2020 Gibson SG Tribute, and more to come... < more comments >
Andy Rothstein of Rothstein Guitars has been offering CuTF and TFTF V-Caps in his pre-wired guitar harnesses since 2005. He was an early tester of our TONE cap prototypes, and is an accomplished jazz/fusion guitar player. His feedback was instrumental in evaluating later-stage construction variants.
I have your new caps in all of my electric guitars now, and they sound fabulous! I have .033 in my Jazzmaster and Strat, .022 in my Gibson, and .047 in both of my Teles. You have "hit it out of the park" with these. I feel your new PIO caps have more character and depth than other caps, and I'm getting wider, more usable sweep out of the tone pot it is paired with. Truthfully, the best way I can describe it is that they really have a certain "mojo" to them. < more comments >

* Andy has just released a new album you can preview here. All his guitars on this CD use the new V-Cap TONE cap series!
Don Butler – Musician and guitar/amplifier Tech, who's customers include Robin Trower, John Fogerty, Elliot Easton, Daniel Lanois, Derek Trucks, Peter Stroud, among others... Don KNOWS what GREAT tone sounds like.
Your caps have a warmth and clarity that all other caps just don't have. You can hear harmonics and note detail that that are masked by other caps. These are the best caps I've heard in both my amps & my guitars. They are like having a Bentley instead of a Prius. < more comments >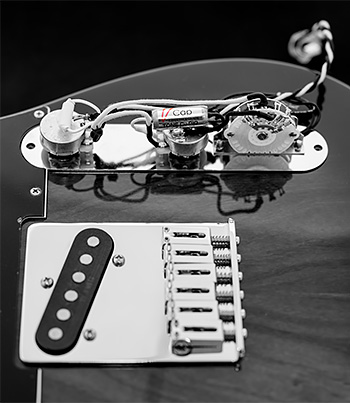 Click image for larger version
Mark Simon of Mark Simon Guitars has been providing repair and restoration services to musicians, players and collectors since 1973… His clients include Johnny Winter, Steve Howe, and a who's who of great guitarists. He got right to the point:
Installed your .047 in a customers Stratocaster, Chris. I believe you found the brown note. Mark < more comments >
For 35 years John Bolin of Bolin Guitars has been making some of the most remarkable guitars and basses in rock and roll history for Billy F. Gibbons, Jimmy Page, Steve Miller, Dusty Hill, Lou Reed, Doc Watson, Albert King, Bo Diddley, Joe Perry, and Keith Richards & Ronnie Wood of the Rolling Stones. John has ghost-built guitars for many other famous guitar players.
I installed the .022 yesterday. It went in our Bolin Tele, with two humbuckers, three-way switch and one volume one tone. The smoothest range we have heard...! Great tone...! We (will) recommend it for all guitars. < more comments >
Mark Warr of Warr Guitars is an innovator of multi-scale touch-style guitars since 1991, and is recognized as a legit genius in this space since. Mark collected the best tone caps on the market, put them through his testing... and the V-Cap TONE caps came out on top:
A while back, I was testing many different capacitors of different builds and manufacturers. I recorded everything in every setting possible. I even made duplicates of the recorded audio files so that I could normalize them to remove volume as a possible factor.

In the end, the "V-Cap" was the winner! They are NOT CHEAP but they are worth every penny! Honestly I was a bit surprised with all the differences that can be heard between all the caps; and yes I tried those orange and oil can things. Though it is subjective, all the caps pretty much rolled highs off about the same using the same values. What was interesting is what tones were left in the mix (or removed).... The "V-cap" had a real nice mid "bell" like tone, or maybe harmonics (I am not sure how to describe it) that were super pleasant and open! The others did not have that. In fact, the others removed these "bell/harmonic" like tone to one extent or another.

Most importantly, I found that the cap did not remove the character of the pickups or the guitar. Though tones changed, it still felt like the voice of the original guitar. This was an excellent discovery. < more comments >
Drew Walsh at Walsh Guitars' goal is to build the guitar that is in your head.
The cap allowed me to get convincingly good jazz tones from the neck, cool cocked-wah tones from the bridge, and lots of fun stuff in between.

Most importantly, I found that the cap did not remove the character of the pickups or the guitar. Though tones changed, it still felt like the voice of the original guitar. This was an excellent discovery. < more comments >
One of the attributes testers frequently mentioned, is how much wider, more usable range the V-Cap TONE series reveals below '10' on their control knob. Curtis Kent is a rhythm player with a healthy YouTube following.
I think the first and most striking difference is the range of natural, warm useable tones has grown instantly. The tone is so clear and vibrant. I used to play with the tone on 10 all the time, and while I still love that sound, engaging the cap a bit by backing off on the tone to position 8 or 9 I get such a sweet sound. I think that's my new favorite position. < more comments >
Dino Lombardi has been a player for many years and has a large collection of vintage instruments. He's tried virtually every tweak out there, including caps...
It's just so natural sounding, so resonant, so clean and so clear and with all that, when you dig in and you attack hard, it gives you that syrupy goodness that you want. I am very impressed, really blown away.

The truth is anybody who's reading this...your best sounding guitar that you own... sounds flat and lifeless and you don't know it because you've never had a capacitor that could perform like a V-Cap TONE in your guitar. If you're someone who spends your life trying to get "the sound", you just found it !!! < more comments >
Eric Merrow is another player known for his nice demos on YouTube.
I've really been liking the accuracy of the cap and especially the values that you provided me. It feels like I'm not rolling off excessive amounts of high end and I'm able to really fine tune my guitar's response with these TONE caps. < more comments >
ABOUT YOUR AMP
It wasn't part of the original plan, but these projects can sometimes take on a life of their own.
During testing Don Butler wrote us to say:
Even though the guitar circuit is a passive circuit, it made enough of a difference that I knew the TONE would operate very well in an amp. So I put the other .022 cap you sent me in the 1st stage coupling in my little Marshall 20 watt. The notes are clearer, smoother and seem to last longer before decaying. I'm quite happy with the improvement and anxious to get some more. < more comments >
Gordon Rankin of Wavelength Audio - a legend in the world of high fidelity - also builds custom guitar and bass amplifiers, as well as pedals. He will be offering the V-Cap TONE as an upgrade option in his new line of guitar amps, as well as in his new Nitrous Booster pedal.
Tone Caps, my fav are the new V-Cap Tone caps- simply the best.

I built two identical guitar amps (my new LunchBox series combo)... threw in the 0.01uF Tone Cap as a coupling cap in the amplifier. Fired it up and the other one sounded broken. Probably the best sounding amp I have ever made. Had 5 people play it so far and everyone wanted to take it home. These caps give an extension that is perfect for any guitar or guitar amp. < more comments >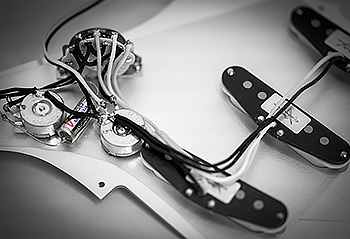 Click image for larger version
ABOUT YOUR TONE
Ready to unleash your guitar? And maybe your vacuum tube amp?
We are offering a special 2020 introductory price on the full line of V-Cap TONE caps. We are offering free shipping on a 'two-fer' so that you don't have to decide whether to do the bridge or the neck or your amp.
The cap values available are .01, .015, .022, .033, .047 and .1 uF.
Dimensions are .4" x 1.062" up to .047 uF, and .67" x 1.25" for the .1 uF.
All are rated for up to 630VDC.
For installation notes please click here
If you need help determining the right values or with the install, please contact your guitar tech or luthier.
>>> If you are a luthier or guitar repair/modification industry professional, please contact us for volume pricing <<<
The new V-Cap TONE series. Made in America. Played around the world.
V-Cap TONE Capacitor Dimensions and Pricing
| | | | | |
| --- | --- | --- | --- | --- |
| uF Value +/- 5% | Voltage (DC) | Dimensions (inches) | MSRP | Intro Pricing |
| 0.01 | 630V | .40 X 1.1 | $59.99 | $49.99 |
| 0.015 | 630V | .40 X 1.1 | $59.99 | $49.99 |
| 0.022 | 630V | .40 X 1.1 | $59.99 | $49.99 |
| 0.033 | | .40 X 1.1 | $59.99 | $49.99 |
| 0.047 | 630V | .40 X 1.1 | $59.99 | $49.99 |
| 0.10 | | .65 X 1.1 | $64.99 | $54.99 |
Prices are in U.S. dollars, and based on total pieces of an individual value/voltage.
If you are an OEM, luthier or component modification/repair professional, please contact us for pricing
"V-Cap", "CuTF", "TONE","TFTF", "OIMP", "ODAM", "Reference Grade", "Elite Reference" and "Variable Stage Quadrant Dielectric" are trademarks of VH Audio, Inc.