TONE... Unleashed
The comments below were submitted by users of the V-Cap TONE capacitors.
Mark Simon – Mark Simon / Terraplane Guitars has been providing repair and restoration services to musicians, players and collectors since 1973… His clients include: Johnny Winter, Steve Howe, and a who's who of great musicians. Mark got right to the point:
Installed your .047 in a customer's Stratocaster, Chris. I believe you found the brown note.
Vito Bratta – Co-founder / Lead guitarist of White Lion:
Never cared for tone controls until I heard your capacitor. Your capacitors are currently in a 1990 Fender Strat, 2017 Fender Telecaster, 2020 Gibson Les Paul Custom, 2020 Gibson SG Tribute, and more to come.
John Bolin – Bolin Guitars has been making some of the most remarkable guitars and basses in rock and roll history for: Billy F. Gibbons, Jimmy Page, Steve Miller, Dusty Hill, Lou Reed, Doc Watson, Albert King, Bo Diddley, Joe Perry, and Keith Richards & Ronnie Wood of the Rolling Stones. John has ghostbuilt guitars for many more famous guitar players. John has ghost-built guitars for many other famous guitar players:
I installed the .022 yesterday. It went in our Bolin Tele, with two humbuckers, three way switch and one volume one tone. The smoothest range we have heard...! Great tone..! We recommend it for all guitar's.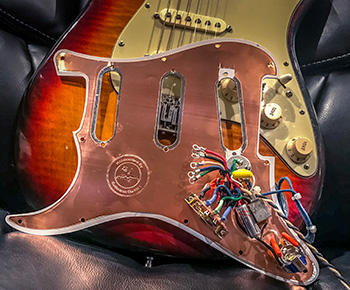 Click image for larger version
Andy Rothstein – recording artist, owner of Rothstein Guitars:
I have your new caps in all of my electric guitars now, and they sound fabulous!! I have .033 in my Jazzmaster and Strat, .022 in my Gibson, and .047 in both of my Teles. You have "hit it out of the park" with these. I feel your new PIO caps have more character and depth than other caps, and I'm getting a more wider and more usable sweep out of the tone pot it is paired with. Truthfully, the best way I can describe it is that they really have a certain "mojo" to them.

I'm really digging the other 3 values in my fleet of guitars right now :-)

>>>

Regarding your question about what I describe as a 'wider, more usable sweep' - what I mean by wider is that I feel as though I get a wider array of usable tones. Normally, when I use my tone pot I end up rolling down to about 7/8, so I end up using it more like a binary on/off switch with 10 = fully bright (no cap engaged), and 7/8 = is a usable slightly dark tone. Below that is usually too muddy for my tastes. In contrast, with your new caps, I hear quite a few usable spots on the tonal spectrum in addition to that 7/8 range. The 5/6 range is great, and I can even hear some great uses for the 4/5 range.

>>>

Your new caps are still sounding awesome! Terrific character and increased dynamic range.
Brian Kelly is a highly respected player (Cincinnati & Nashville) who not only provided the original inspiration for TONE, but has continued to offer great input along the way. Thank you, Brian!
I am all in on these caps. Chris spent years figuring out how to minimize the problems with the original caps and, at the same time, maximize the potential of the PIO concept. It's a significant accomplishment. He is one of the few people with the background in cap design to tackle this problem.
Brian offered me his prized 'Black Strat' that was made as the 'ultimate' Strat by him and Jason Lollar about 10 years ago. When I acquired the guitar from Brian, it needed some fine-tuning and set-up, which I did immediately, as well as installed the TONE series V-Cap. I sent the guitar back to Brian recently to get his opinion on the sound, plugging into same amp he's familiar with, and this is what he added:
When I plugged-in the Black Strat, I was absolutely shocked at what that guitar sounds like. It is probably perfect to my ears. I can do anything I want with it. I now think those caps play a large part.

Nearly 60 years ago and after acquiring my 'used' '51 Telecaster, when I plugged it in it sounded like I expected it to sound only from listening to it acoustically. When I changed the caps to newer ones at the time, all of that disappeared. It started to sound more 'electronic'. You not only get 5 stars for your development of these caps but your stars are all in gold.
Brian's comment above about a guitar's sound UNPLUGGED really rang 'home' with me, because in my experience, every great guitar almost always sounds great UNPLUGGED, and if the pickups, strings and caps are 'right'... that character / quality shines through when plugged-in as well. This is exactly what the goal of these caps have been: to allow the unique personality of every instrument to shine through faithfully, and to offer a wide tonal palette within that instrument's character.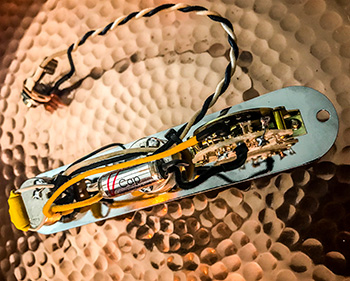 Click image for larger version
Gordon Rankin of Wavelength Audio - a legend in the world of high fidelity - also builds custom guitar and bass amplifiers, as well as pedals. He will be offering the V-Cap TONE as an upgrade option in his new line of guitar amps, as well as in his new Nitrous Booster pedal:
I made up a new amp with the (V-Cap) Tone Caps and a new output transformer with Nickel cores. Probably the best sounding amp I have ever made. Had 5 people play it so far and everyone wanted to take it home.

>>>

I built two identical guitar amps (my new LunchBox series combo) and I was building the second when Chris sent samples of the new ToneCaps. I was like "ok I am game". Threw in the 0.01uF Tone Cap as a coupling cap in the amplifier. Fired it up and the other one sounded broken. These caps give an extension that is perfect for any guitar or guitar amp. I just ordered a bunch and will be swapping out all the tone caps in my guitars this week!

>>>

Tone Caps: My fav are the new V-Cap Tone caps. Simply the best.
* Gordon also has a great tutorial about how to optimally wire-up & ground your pickups, without 'torching' your pots here.
Don Butler – Musician and guitar/amplifier Tech, who's customers include Robin Trower, John Fogerty, Elliot Easton, Daniel Lanois, Derek Trucks, Peter Stroud, and many others:
I have tried the .022 & .047 in a couple of guitars! These caps sound amazing in them. I'm going to try them in an amp tomorrow.

>>>

What I like about these caps is the roundness of the notes. I put the other .022 in my R-4 Gibson Les Paul that's been redone by a company called Historic Makeovers. They put a correct Trussrod in it along with a Brazilian rosewood fingerboard Using Hot Hide Glue and redid the neck/body joint with same, reshaped the neck and top & refinished it with the correct formula nitro, etc. I have a set of P-90's from 1953 in it. So I replaced the bridge pickup's old Grey Tigercap. I have an old Bill Lawerence Tone Q in the neck spot. But the clarity and note detail are exceptional now. I can hear all the harmonics in the note. I put the other .022 cap in the 1st stage coupling in my little Marshall 20 watt (2061x) I have all Phillips/Iskra mustard caps in it so it sounded better than one of the stock 20 watters . I have an output tranny made by a guy in the U.K. My friend Mitch Colby who use to work at Korg/Vox/Marshall as the VP of product development. Probably the best sounding o/p for the 18 watt & 20 watt Marshall's as it sounds like the best of the originals.

But the (TONE) cap in the input stage (Guitar Amp) just alone is quite an improvement. The notes are clearer, smoother and seem to last longer before decaying. So quite happy with the improvement and anxious to get some more from you...


>>>

More bloom, sustain, harmonics, etc. Took the shrillness out of the sound.

>>>

I installed two of the .022's in my main Les Paul yesterday!! The tonality of this guitar now is pretty amazing! The notes stay clearer and ring longer. When I roll the tone all the way off, the volume doesn't drop off! With other caps, even PIO ones, it will drop down some. I was surprised at how much clearer the overall guitar sounds even with my little brown Fender Princeton (a `62) on full.

>>>

Just wanted you to know that I've tried the .022's in a couple other guitars! They just seem to make everything in each guitar sound better and work better. I have an aluminium neck Travis Bean Guitar and it's always been a tad on the harsh side since it has alnico-5 rod magnets mounted directly to the neck. Everything is mounted to the neck. My friend of the last 50 years, Marc McElwee designed them with Travis back in the early/mid 70's. The body and fingerboard are wood. The rest is aluminium and machined out of a solid billet of Reynolds T6061 aircraft grade aluminium. I had the 1st one back in 1975. I bought another one from the guy who has the rights to build them now. It's sort of a cult offering.. anyway, they can be a bit bright & slightly harsh but your caps just removed all of that..

>>>

Your caps have a warmth and clarity that all other caps just don't have. You can hear harmonics and note detail that that are masked by other caps. These are the best caps I've heard in both my amps & my guitars. They are like having a Bentley instead of a Prius.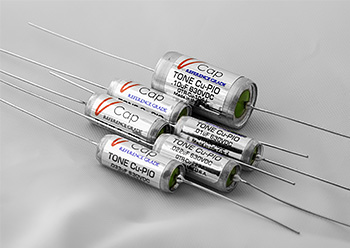 Click image for larger version
Eric Merrow – Guitar player and youtube channel guitar gear demos and video manuals:
I've been playing my guitar with your cap in it still and I'm really enjoying the sweep and rolloff it's giving me. As I mentioned before, it seems to be louder which I really dig. I did put the 2nd cap in my jazzmaster which has been really cool! I've got a set of JM pickups in it, so they are very spiky and not ultra hot so the less volume decrease of your cap has been very welcomed. Also, I opted to put the .015 in my JM so keep the really bright character/vibe of that guitar intact. So when I roll down the tone it doesn't just turn to mush

Another thing I wanted to mention was that I really appreciate the robustness of the cap construction! the firmness of the leads made installing a larger part surprisingly easy which I enjoyed.

>>>

I've been really enjoying your TONE cap.

I've got 1 in my Rivolta Mondata with humbuckers and 1 in my Jazzmaster with noiseless JM pickups. I've really been liking the accuracy of the cap and especially the values that you provided me. It feels like I'm not rolling off excessive amounts of high end and I'm able to really fine tune my guitar's response with these TONE caps.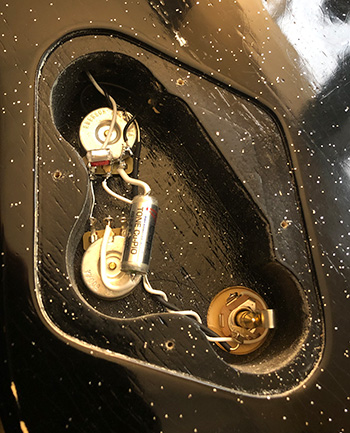 Click image for larger version
So I finally had a chance to put the .022 cap to the test. I put it in a guitar that's in my current batch. To give you some context, this guitar has a one piece limba (korina) body, Emerson CTS 500k pots, Switchcraft parts, and McNelly/Walsh Split-Coil pickups. These pickups are individual mini-P90s that are combined in series (at least for this particular guitar) so as to be humbucking. Tonally, I would describe them as the perfect middle ground between a PAF and a vintage P-90.

For this particular guitar I chose to use the .022 cap because it is what I usually use in tandem with these pickups so I knew generally what to compare it with. Here are my findings...
1. I found the roll-off to be very gentle and subtle for the first 60%. It helped tame a couple spikes in the upper range, but ever-so-slightly so.
2. As I progressed past 60% I really enjoyed the roll-off. I found it to not muddy the sound but truly warm the signal. I often find that caps go from 0-60 without much flavor in between, but these gave me lots to choose from in the last 40% of the taper.
3. These pickups are fairly balanced, but I would not call them jazz pickups by any means. The cap allowed me to get convincingly good jazz tones from the neck, cool cocked-wah tones from the bridge, and lots of fun stuff in between. Most importantly, I found that the cap did not remove the character of the pickups or the guitar. Though tones changed, it still felt like the voice of the original guitar. This was an excellent discovery.


>>>

I personally was drawn toward the .033 value for tone. I found that to have just the right amount of roll-off and warmth at the end of the taper without sounding like a wet blanket (like cheaper caps often do). In short, I found these to be extremely musical caps so well done!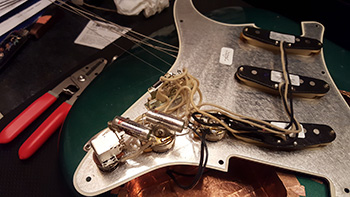 Click image for larger version
Dino Lombardi – 'hardcore' enthusiast/player for 37 years, and has a large collection of vintage instruments and amps. He's tried virtually every tweak out there, including caps:
The little bit that I did plug it in a few hours. I'm not a bridge pickup guy so the real test for me will be the neck pickup up cap. And for that I definitely need an 0.015uf capacitor. I did have an opportunity to install the 0.022uf cap on the push pull bottom tone pot in my Stratocaster, which is just for the bridge pickup. What was remarkable was when I use the bridge pickup and the neck pickup together the performance of the cap lifted the sound of the neck pickup so noticeably to me I cannot wait to hear a 0.015uf in the neck pickup. Immediately I thought that your capacitor imparted a beautiful natural ambient tone that increase the natural Resonance of my guitar where I swear to God to you on the bridge pickup alone I feel like I can hear every nuance and detail of the guitar's sound even the wood you can hear. When I switch to the neck and the bridge pickup together and the neck pickup still has the piece of s*** polypropylene cheap cap. The V-Cap that's on the bridge noticeably cleans up and lifts the sound of the neck pickup when it's used in conjunction with the bridge that has your cap. Nevertheless without a lot of testing I love the (TONE) caps already. There's no doubt that they're Superior to anything that I've ever tried and even though I'm down here in Atlanta I'm still very interested in as soon as you have the 0.015uf Caps available, I'd like to order some.

>>>




Click image for larger version

I did make a little bit of time two nights ago when I got home early enough to turn the amp on and again the sound of the cap on the bridge pickup is just Superior to anything that I've ever listened to. It's just so natural sounding, so resonant, so clean and so clear and with all that, when you dig in and you attack hard, it gives you that syrupy goodness that you want, and take into consideration I'm not even able to turn my amp up to even close to break up. So I am very impressed, really blown away by the sound and I've only test it for about an hour and 45 minutes now. I'll continue to test the 0.022uf cap on the bridge pickup in my Strat as that's the only guitar I have with me, but I do have my Morgan PR12 amp which is an outstanding piece of equipment to test with !

>>>

The bridge pickup sounds so amazing that I really would love to hear it on the neck and moreover the one cap on the bridge lifted the neck capacitor so much that I would love to hear your two capacitors working in conjunction with each other that would be amazing.

>>>




Click image for larger version

I already told you just on 5 hours of testing on a bridge pickup and I'm not a bridge pickup guy, they're Superior to anything I've ever heard by such a huge margin that even without hearing one of the caps on the neck pickup or the middle pickup there's still no question that every one of my guitars will have them in it, eventually. The truth is anybody who's reading this...your best sounding guitar that you own... sounds flat and lifeless and you don't know it because you've never had a capacitor that could perform like a V-Cap in your guitar. If you spent your life like me searching for the ultimate unbelievable natural sound, this is it ! Your guitar will come alive in a way that you could never imagine because there's never been a capacitor that can do what these caps can do ! If you're someone who spend your life trying to get "the sound", if changed everything in your guitar...wire, solder, pickups, pots, input jacks, switches and so on. And have improved your tube amp over the years to something that you just absolutely Love. And believe me I understand, my 64' Super Reverb is part of my family. This is the final step. If you're an experienced player that has been playing for years searching for "that sound"....you just found it !!!

>>>

I'll get back to you with some descriptions of how the Caps sound on the neck pickups that I've gotten installed. I've only been able to play for a little bit and I wasn't using the amp that I really like to test with and I was still Blown Away by what I was hearing !!! The amp that I had access to has EL-34 power tubes which is something that I normally don't play through, not that big of a fan of them, and it still sounded absolutely ridiculous fantastic.

>>>

So I've been testing alot lately. I am completely blown away by the sound of the caps on the neck and middle pickups and I'll have some new impressions soon . I've got about eight or 10 more hours testing with the 0.015uf caps and they're just resonant perfection !!!

>>>

I've been doing a lot of testing so I will have some new evaluations for you soon. And I thought the caps on the bridge pickups sounded good. The sound is just unbelievable with the middle and the neck pickup having the 0.015uf cap.

>>>




Click image for larger version

There's all kinds of things that I've been hearing with the Caps, that are just unbelievable. This new range of harmonics, tones like the sound of the wood of the guitar that I can hear now. The unbelievably enhanced touch sensitivity and presence! The note separation is miraculous and I really didn't even notice how much it was, because the whole time I've been testing the Caps, I've been testing them clean, plugging straight into the amp. I plugged my Analog Man tube screamer in with my old as hell TC Electronic, chorus, pitch modulator, flanger and it was like heaven on Earth. And I thought it sounded good before ! It's amazing because the Caps just transcend the guitar and literally make everything that's in the signal path sound better ! Just putting the capacitor in the guitar, was as though I added it to every component after that, every pedal sounded miraculously better and pedals that I had already thought were great, you know, my best sounding pedal and they got better sounding ! By a lot ! I got a George Lynch Screamin Demon and a 59 trembucker in a 96 Ibanez S Series Guitar and the truth is, I didn't like the pickups for Last 20 years. The guitar just sat there. So I figure the ultimate test was before I decided to get rid of the pickups, I'd put your cap in there and see what it does.. Mind you, I have had three different kinds of capacitors in that guitar. And I thought it always sounded like s***. Truth is, I brought it down with me, put your 0.022 to cap in it. And it sounds absolutely incredible. Pickups that I couldn't stand and a guitar I didn't play ! And It made them sound incredible ! Which is something I did not expect. I've heard the term transparent Distortion used so many times. But I've got to admit, I never heard transparent distortion until I used your caps in my guitars. It's really incredible what the note separation in the clarity that cap provides, does for a gain circuit and not just the 808, it made my plimsoul and my supertube also sound, like "the second coming" !!! The capacitors are just absolutely extraordinary they've improved the sound of my guitars and everything else in a way that is completely natural sounding, ambient resonance ! Clean through your favorite tube amp, your electric guitar will sound like a acoustic guitar. That's how natural-sounding these caps make your guitar sound ! Thanks for everything Chris, I'm definitely going to want to get some more caps when I get home in about a month or so, so I'll be getting in touch with you soon !!!

>>>
I asked Dino to elaborate on his comment about 'touch sensitivity', to flesh out further because I didn't know exactly what he was referring to. He does a good job of explaining that below:



Click image for larger version

When I think of what your caps did to my guitars Natural is the first thing that comes to mind. And when I think in a few words what it did for my guitar, I felt it made the guitar come to life ! That's really the way that I would describe the enhanced touch sensitivity to the guitar is that it's just alive as soon as you touch your fingers to the strings, the resonance and presence is there in a way, that it just wasn't there before. Like plugging into a vintage Fender amp for the first time, just better ! And all that touch sensitivity increase, I feel is where all those very new slightly nuanced harmonics are ! Picking harmonics that I've never heard before. Even just the attack of the pic on the string sounds better. I'd go so far to say that the attack of the pic, muted hits and stuff like that are dramatically more Musical and more Harmonically Rich !!!

>>>

oh my God, now I'm really engaging your capacitor and my tone pot has 8 sweet spots on it. Even with the tone pot on 2. Your capacitors are so outstandingly Musical and clear that, that's a usable sound. Instead of sounding like s*** like it does with every other cap I had, all muddy undefined. With your caps it's thick and wooly but theres note separation and musicality to it. It goes from being totally unusable s*** sound with other caps to being a usable Musical nice tone unachievable without your caps.

Your V-Caps are just amazing every time I pick up a guitar that I have them in, man I'm Blown Away each time I plug in. As though my ear can't remember how great it sounded the last time I plugged in.

>>>

I just wanted to bring you up to speed with the latest testing I did. I think I'm pretty much settled in on my stratocasters after changing the values of the caps several times it seems that with an alder body Stratocaster with any style of vintage pickups. (I happen to have Fender Custom Shop 1954 Strat pickups in one and Fender Custom Shop, Custom1969 Stratocaster pickups in the other.) The way to go for me for caps in a strat like that is a 0.022uf cap for the bottom tone pot and dedicate it to the bridge and then a 0.01uf in the top tone pot and it is dedicated to the neck and middle pickup. It's a great prescription for a Stratocaster like I described. They really let the bell tone of a vintage Stratocaster pickup shine more than anything I've ever heard all of my pickups an exponentially better with the caps and they sounded great before. Even if you think it's a little bright in different positions as soon as you turn down your tone pot a little and engage the cap you get sweet spot after sweet spot what's amazing is the Caps sound so great that even with the tone pot completely turned down to one the sound is still a musical, usable sound with note separation which is just unbelievable ! The Caps are absolutely ridiculously unbelievable and they were the final piece of the puzzle for me after 25 years of trying to get this pristine natural Crystal Clear Tone !




Click image for larger version

Okay so next when I called you about that jazz bass I was gutting all the ROC s*** that they put inside of my Mexican jazz bass. I completely did the inside with all American parts CTS pots, Seymour Duncan Antiquity II 1960 jazz bass pickups and vintage Push Pull wire. Instead of going with the values that everybody recommended knowing that your caps don't ever give any sort of harsh brash or shrill highs. I decided to go with a really low value just to see what it did with the bass pickups. I went with 0.015uf. I won't be taking it out it sounds absolutely unbelievable. It opened up the sound of this bass to a point where it sounds like a vintage bass and it's really just an inexpensive Mexican jazz bass with quality Electronics. With your caps all the rules of watch the cap value not getting too low because you don't want any harsh, brash highs, are out the window and that's really what I've been doing is just experiment with different values.

Also if you've never played one or you don't have one I got one of those Eric Johnson Slimline stratocasters. Absolutely ridiculously beautiful sounding Stratocaster, best I've ever heard for new guitar. His pickups are fantastic sounding and when you get the guitar it has a ceramic disc cap shared between the two tone pots. And because of that, I just stuck one of your 0.01uf in there hooked up the same way they had it shared between the two pots. The guitar was really bright and articulate and it had that semi-hollowbody thing going in a big way before I changed the cap. After I changed the cap I don't think there's any question that it's the best sounding guitar that I own and I can't tell you how much it bothers me to say that, because I have Stratocasters I have put 25-30 years of my time into tinkering with to get a great sound out of them and they sound beautiful but the truth is the Eric Johnson one with your cap in there I think is one of the best sounding guitars I own now. Just fantastic sound out of those caps no matter what you put them in.

>>>




Click image for larger version

Just a note the jazz bass was the first time I totally wired the guitar completely start to finish. Also just as a sidebar I'm going to send you a couple of pics of a beautiful bass amplifier that I picked up recently and restored an Ampeg Portaflex SB 12 fliptop Bass Amp. The amp came out like new, and there was 50 years or more of dirt and grime on it. It looked rough when I got it ! Also when I put your caps in a guitar, I most of the time, because I like things bright, leave the tone caps wide open. So with your caps when I'm testing to hear a difference I usually start off with the tone pot wide open. Which supposedly the cap is not doing anything but that's b*******, no way, it completely changes the complexion of the sound of the guitar or bass in an enormous way for the better, as soon as it's installed whether I touch the tone knob or not. I understand why the boutique guys want the low cap value. They want you to experience every bit of frequency and tone that get the guitar has and they know with your cap there customer will be able to turn the tone pot down and find the perfect amount of treble and high-end that they need without losing anything. That's kind of the way I started thinking after experiencing your caps and talking to you. You never lose anything, you only gain character and frequency and it's never harsh, even if the value is lower then anything you tried. That's why that 0.015uf is never coming out of that jazz bass. I'd never imagined that that bass could ever produce that many different great tones and I don't know if it would have been able hear that if I started out with something like say an 0.047. So again the advice would be to somebody who didn't know about these caps to use a lower value than you would normally use because these caps impart such a natural, palatable, smoothness to all the frequencies. And unless you're familiar with these caps, you've really never heard highs presented to your ear in such a way, nothing sounds harsh, it's just extra high's. And it's not just highs everything sounds better the bottom end gets round and smooth the mids get sharper and tighter the note separation will blow your mind and then when you plug into one of your tube screamers or something like that, then you really hear the note separation effect. And the truth is with these caps you lose nothing when you roll off your tone pot you just find Sweet Spot after sweet spot that's totally Musical and usable. I'm sorry I don't have a pic of the Eric Johnson Strat install yet. But as soon as I get one I will send it to you. Thanks Chris !
Curtis Kent – Kent Toneworks – Guitar Enthusiast and youtube product demonstrator:
I successfully installed the .047 uF into my Novo Guitars Serus T (telecaster pickups). It comes stock with another "brand name" supposedly vintage inspired capacitor. I don't even know what that means but yeah, they were supposed to be good caps... but immediately I am certain they are very restrictive and this new V-CAP has really opened up the sound of this guitar in an incredible way. I played the guitar direct into my Benson Amplifier right before the install. Immediately after I plugged in again and got lost in the new found wide variety of tones available. I am very impressed. I'm going to play some more this evening and try to find words to describe the profound difference that I am hearing.

>>>

So my impressions are great. I've been thinking about how to describe it even a while after I've been playing. I think the first and most striking difference is the range of natural, warm useable tones has grown instantly. The tone is so clear and vibrant throughout the range provided by the tone knob. The guitar was only really useable in a few set positions like 2. However now from like 2-10 on the tone knob there is incredible musical resonant clarity. It really kind of blew my mind. Its hard to find words to describe it but its like there is a richness and complexity to the resonance, it doesn't restrict or funnel the tone the way the old cap did limiting the guitars capabilities. The guitar is so incredibly balanced now. The signal is full and strong but not harsh at all, bigger but also reveals more tiny details accurately. It is absolutely clear to me that V-Cap provides the highest quality possible dynamics that will definitely satisfy the vintage tone connoisseur.

Chris, I am very, very happy.

>>>




Richard Chin's guitars

I can certainly say this V-Cap is a huge improvement, I use to play with the tone on 10 all the time, and while I still love that sound, engaging the cap a bit by backing off on the tone to position 8 or 9 I get such a sweet sound, I think that's my new favourite position. That said position 10 definitely sounds great, so there might be some improvement there.

>>>

Chris, I am still very very happy! I think my impressions are the same but just more solidified over this time. I took time before I initially responded because I wanted to find the words to articulate my experience with them well.
Richard Chin – Guitar Enthusiast:
I got the chance to have the TONE caps installed into an LP with P-90s and a Tele today. I have to say that they "saved" the guitars, in the sense I really wasn't liking what I was hearing prior to their installation. Now the guitars sound more musical without the overt harshness or brittleness I was hearing earlier. Thank you!

>>>

Here are the two guitars. The LP has Malinoski P-90s, while the Tele has Lambertones. I knew the Malinoskis were good-sounding P-90's because I have a set of them in one of his guitars. Yet for some reason, they didn't sound like I expected them to in the LP. That's where the TONE caps rode to the rescue! Thanks again for "saving" these guitars.
>>>

I've had a Tele with a Charlie Christian pickup in the neck for a while now, and I never knew what quite to make of it. I wasn't familiar with the sound of Charlie Christian pickups but I thought I would try it as another addition to my collection. Unfortunately I was less than impressed. The pickup sounded flat, dull and muddy. I tried better wiring, better pots (PEC), and then another cap that I viewed as an upgrade at the time. All was for naught as it sounded marginally better, but yet less than optimal.

Then I had a TONE cap installed, and lo and behold. Oh, is that what the pickup is supposed to sound like? That actually sounds pretty good! It was musical and clear. Hmm, I kind of like that. I might just have to pick up this guitar more often!

Thanks again. That makes three guitars that TONE caps have saved!
The new V-Cap TONE series. Made in America. Played around the world.
V-Cap TONE Capacitor Dimensions and Pricing
| | | | | |
| --- | --- | --- | --- | --- |
| uF Value +/- 5% | Voltage (DC) | Dimensions (inches) | MSRP | Intro Pricing |
| 0.01 | 630V | .40 X 1.1 | $59.99 | $49.99 |
| 0.015 | 630V | .40 X 1.1 | $59.99 | $49.99 |
| 0.022 | 630V | .40 X 1.1 | $59.99 | $49.99 |
| 0.033 | | .40 X 1.1 | $59.99 | $49.99 |
| 0.047 | 630V | .40 X 1.1 | $59.99 | $49.99 |
| 0.10 | | .65 X 1.1 | $64.99 | $54.99 |
Prices are in U.S. dollars.
If you are an OEM, luthier or component modification/repair professional, please contact us for pricing
"V-Cap", "CuTF", "ODAM", "TONE", "TFTF", "OIMP", "Reference Grade", "Elite Reference" and "Variable Stage Quadrant Dielectric" are trademarks of VH Audio, Inc.