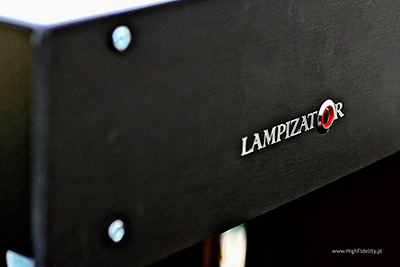 LampizatOr DAC
Lukasz Fikus, manufacturer of the famed "LampizatOr" DAC, shares his experience about using V-Caps in his equipment.
"There are over 300 parts in the DAC my factory produces. Why would just a series signal capacitor be so important? I don't know, thats why I pay equal attention to all parts. Fanatical attention. Ironically, the output capacitors were the last parts that I tested, in the gigantic effort to build my flagship DAC, the pride of Poland, the Level 5 LampizatOr. I was about to challenge the stratospheric area where very few DACs dare to go.
To build a very good DAC (Level 4) was already difficult, but the amount of work, expense and attention the Level 5 takes, is just crazy. Long story short - this morning I had a Level 5 version ready, with EVERYTHING except the capacitors - already optimized. I reserved the whole Saturday, when the factory was closed - for the test session with the 5 strongest cap contenders.
For the Level 2 DAC, everything that we technically know about sound, must be there. Bass, mids, treble, stereo imaging with depth and width, timbres, slam, - everything. The Level 3 version requires all of the above are present plus - they are AWESOME. Level 4 makes a leap into musicality - the speakers disappear completely, the music is smooth, liquid, natural, beautiful etc. How about one level up ? What I try to achieve in Level 5 is the whole question of analyzing, naming, describing the system and its sound becomes a unimportant "blah, blah". There is only my brain, listening and enjoying the music. No system, no room, no cables, no amps. It is like a realistic dream about flying. Thats what I want.
Long story short - I was finally able to "fly" with the addition of V-Cap CuTF in the Level 5 Lampizator DAC. To start with, I used my best so far Soviet Paper In Oils (10 uF) with stacked aluminum rectangles and I added .1 uF V-Caps. With good music and my eyes closed - I had a full teleportation to the musical event reality - in seconds. The small "events" in the recordings were so real, so legible, so scary fast - that they sounded like the real thing. This has nothing to do with the "high-end system sound" where everything is so "nice" and Diana K is so BORING. In my system, the rim shot sounds like someone is trying to kill me.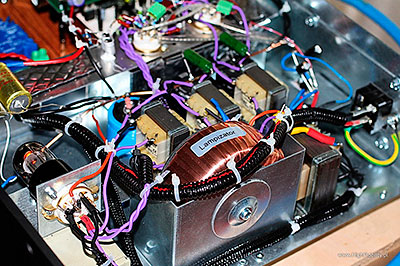 Inside the LamipzatOr
I proceeded with removal of the V-Cap bypass and the whole joy was lost. The same music is like a film displayed on a rectangular bed-sheet, like in an old cinema. Put back the V-Caps and whhoooossshhh - teleportation like the Star Trek 'Enterprise' going to light speed.
Then, I proceeded with just a V-Cap .47 uF, with no bypass. The sound was fantastic, but not much better that the much larger value Soviet cap with the V-Cap CuTF bypass. So, in fact the bypass did SO MUCH to the Soviet caps that I got 95% of the fun. I got what is musically IMPORTANT for my project. The more expensive full V-Cap job is just a little bit better.
My conclusion is to go with the full Monty V-Cap, but just "a twist of V-Cap" by means of a small bypass will transform any cap into an "almost V-Cap". Frankly, after this test - I can not live without them.
Lukasz, also sent the following note, after modifying a phono stage for his customer:
A customer brought to our Laboratory, very rare, hand-made phono stage from Germany, from 1965. He can afford ANY phono stage, but he says this one is magical. He paid several thousand Euros for a mint, unmodded piece. I replaced the dead tube and I asked him if he wanted a part upgrade. "No!", he almost shouted. "The magic of this unit lies in original german parts!!! Especially ERO caps.".
Long story short, a month later he agreed to change 8 coupling caps in the phono stage, and I installed V-Caps CuTF .1 uF. I can not even describe to you how big the change was. Partnered with the Verdier turntable, Verdier 845 mono block amps, and Audio Note cartridge - this phono stage had changed beyond recognition. That whole myth about "genuine original caps" turned out to be completely wrong. V-Caps took the system to a level bordering on a total musical hallucination.
- Sincerely yours,
Lukasz LampizatOr Fikus
Lampizator
READ MORE REVIEWS of the V-Cap Capacitors